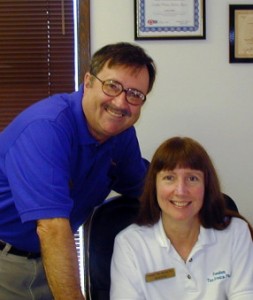 Bob and Joanne Fiddler
We (Bob and Joanne Fiddler) moved to the area in 2002 from Jacksonville in order to be closer to family in Okaloosa County. Former district managers with Jackson Hewitt, we decided to "go it alone" and opened Freedom Tax Service Plus in Crestview in the fall of 2002. After getting established, we recruited Joanne's sister, Marcia Saranpa, away from her long career in the legal field to join in ownership.
Staff Profiles
Our staff, our Freedom "family", is the key to the success we've enjoyed all these years. Each year, every tax preparer completes many, many hours of continuing education, so you can have confidence that you are dealing with competent folks. Each of our preparers is listed in the IRS's nationwide listing of tax professionals (http://irs.treasury.gov/rpo/rpo.jsf) which was published for the first time in 2015. Inclusion in the listing requires preparers to register with the IRS, complete many continuing education hours, and pass a competency exam. Should we encounter a situation that requires additional research, our membership in the National Association of Tax Professionals (NATP) gives us a "lifeline" to highly trained CPAs and Tax Attorneys.
Marcia Saranpa
Partner and Office Manager
Marcia begins her 16th year at Freedom in 2018. With experience comes knowledge and Marcia is recognized as one of our "go to" people for complex tax issues. Her 20+ years as a paralegal and office manager at a Fort Walton Beach attorney's office allows her to provide additional insight that is often valuable. A stickler for policies and procedures, Marcia keeps our office in compliance and running efficiently. In addition to preparing oodles of tax returns, Marcia also handles the bookkeeping and payroll for more than 15 of our small business clients. 
Michele Kypfer
Tax Preparer and Assistant Office Manager
Michele begins her 11th year with Freedom in 2018. In addition to tax preparation, Michele serves as our Assistant Office Manager and handles bookkeeping and payroll for more than 20 of our small business clients. We especially appreciate her penchant for suggesting new and better ways of doing things.
Angie Holland
Tax Preparer & Bookkeeper
2018 marks Angie's 11th year with Freedom Tax. While always providing excellent tax preparation services, Angie believes taxes don't need to be dry and boring. Her wit, good nature, and impersonations frequently brighten a client or a co-workers day. Angie is now also handling bookkeeping & payroll for a dozen of our small business clients.
Angela Moore
Tax Preparer & Bookkeeper
2018 will mark Angela's 6th year with us. In addition to preparing tax returns she is responsible for the bookkeeping and payroll services for more than 20 of our small business clients. She has a keen attention to detail and her calm, unflappable manner is especially valuable during the hectic days of tax season.
TaShandra Matthews
Tax Preparer
We're delighted to welcome Shan back to Freedom after being gone for a few years. 2018 will be her 8th year preparing returns. Clients appreciate her professionalism, diligence and expertise. We love knowing that "if Shan did it, it's been done right."
Alexis Murphy
Bookkeeper and Receptionist
Having survived her first lively season with Freedom Tax, Alexis is adding that experience to her banking and retail background as she assumes bookkeeping and payroll processing responsibilities.
Casey Testa
Receptionist
Casey survived her first year with Freedom Tax and is back for more in 2018! She is friendly and methodical and dedicated to taking excellent care of our clients. As a military spouse she has special empathy for our service member clients and their families.
Chip Fowler
Receptionist
Chip begins his 6th year with Freedom in 2018. He works fulltime teaching youth at the Okaloosa County Jail. Chip joins us each day after school and on Saturdays to serve as receptionist and all around helpful office guy. His cheerful, polite, and professional demeanor is a welcome sight to clients and co-workers.
 Sherry Ensor
Retired
We are sad to announce that after 12 exciting years, Sherry has retired from Freedom tax, adding that title to her retired USAF Chief Master Sergeant distinction. Sherry will be truly missed by her clients and coworkers alike. We wish her all the best as she embarks on her new adventure as a retiree!.