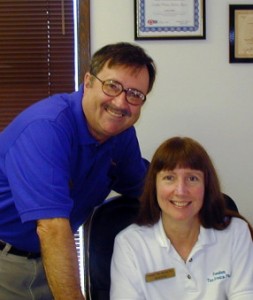 Bob and Joanne Fiddler
We (Bob and Joanne Fiddler) moved to the area in 2002 from Jacksonville in order to be closer to family in Okaloosa County. Former district managers with Jackson Hewitt, we decided to "go it alone" and opened Freedom Tax Service Plus in Crestview in the fall of 2002. After getting established, we recruited Joanne's sister, Marcia Saranpa, away from her long career in the legal field to join in ownership.
Staff Profiles
Our staff, our Freedom "family", is the key to the success we've enjoyed all these years. Each year, every tax preparer completes many, many hours of continuing education, so you can have confidence that you are dealing with competent folks. Each of our preparers is listed in the IRS's nationwide listing of tax professionals (http://irs.treasury.gov/rpo/rpo.jsf) which was published for the first time in 2015. Inclusion in the listing requires preparers to register with the IRS, complete many continuing education hours, and pass a competency exam. Should we encounter a situation that requires additional research, our membership in the National Association of Tax Professionals (NATP) gives us a "lifeline" to highly trained CPAs and Tax Attorneys.
Marcia Saranpa
Partner and Office Manager
Marcia begins her 21st year at Freedom in 2023. With experience comes knowledge and Marcia is recognized as one of our "go to" people for complex tax issues. Her 20+ years as a paralegal and office manager at a Fort Walton Beach attorney's office allows her to provide additional insight that is often valuable. A stickler for policies and procedures, Marcia keeps our office in compliance and running efficiently
---
Angela Moore
Tax Preparer & Bookkeeper
2023 will mark Angela's 12th year with us. In addition to preparing tax returns she is responsible for the bookkeeping and payroll services for more than 30 of our small business clients. She has a keen attention to detail and her calm, unflappable manner is especially valuable during the hectic days of tax season.
---
Janette McCord 
Tax Preparer & Bookkeeper
Janette begins her 5th year at Freedom in 2023. She has demonstrated a natural talent for understanding complex details and a willingness to dig into issues to be sure they are handled properly. In addition to tax preparation, she is responsible for the bookkeeping and payroll services for roughly 30 of our small business clients.  
---
Lori Ucello
Head of Administrative Support
Lori returns for her 6th year and more tax season excitement! Constantly striving to improve our processes, her sweet and empathetic manner is appreciated by clients and co-workers alike. Her background in recruiting and as a small business owner combined with a willingness to do whatever is required to take care of our clients will serve us all well in 2023!
---
Conni Perkins 
Tax Preparer & Bookkeeper
Conni begins her 4th year at Freedom in 2023. She's displayed a talent for multitasking which is crucial during the hubbub that is tax season. As a former business owner, she understands the importance of handling clients and their concerns quickly and professionally. In addition to tax preparation, she is responsible for the bookkeeping and payroll services for roughly 30 of our small business clients.
---
Angie Jernigan
Administrative Support
Angie returns to Freedom for her 2nd year in 2023. Angie is a grad student with experience as a Community Service Officer with the Crestview PD, an Okaloosa Schools Substitute Teacher and keeper of a slew of animals…perfect experience for the wilds of tax season! We're glad to have her back in 2023!
---
Diana Hatfield
Administrative Support
Diana joins us after many years as Warranty Manager at Wise Equipment and as a dental hygienist before that.  Diana's sweet demeanor, smile and eagerness to assist clients and co-workers Is a welcome addition to the Freedom team.
---
Binx
Office Cat
Binx is in his 2nd year with Freedom Tax. He came to us with a simple job application…"Starving kitten will work for food." In his short tenure he has proven to be a morale booster and source of amusement. He knows how to make himself scarce when the office is busy and is not offended to be put outside if anyone is allergic or simply not fond of cats.